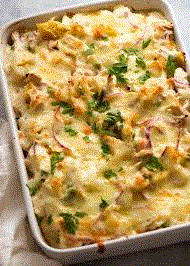 Crispy thyme roasted leek and mushroom pasta bake
Hi,
Hope all is well with you and your families in this difficult time, with the world slowly opening back up. We are really pleased you are getting in touch and getting your ovens cleaned. A great vegetarian recipe this week:
Crispy thyme roasted leek and mushroom pasta bake
Serves 2-3 people
Prep time 10 minutes
cook time 30-minutes
Ingredients
200 g of tagliatelle
2 large leeks cut into half centimetre half moons
250g chestnut mushrooms roughly sliced
300ml of creme fraiche
one tablespoon of olive oil plus more to bake
onetape teaspoon sea salt flakes
10 Springs sprigs of fresh thyme leaves only
75g cheddar cheese grated
100 g of panko bread crumbs
Preheat the oven to 200C fan/220c/ gas 7. Cook pasta in a large pan of boiling salted water for 10 minutes, until just cooked but still dente. ( if you're using fresh tagliatelle from the chiller section of the supermarket it's usually just 3 to 4 minutes).
While the pasta is cooking, sliced leeks and mushrooms and great Cheddar. drop the leeks in with the pasta water for the last minute of cooking then drain well.
Take the pasta and leeks into a roasting tin or lasagne dish and stir through the creme fraiche, olive oil, seasalt and half the time Leaves. top with the sliced mushrooms and the remaining tyme, followed by the grated Cheddar and the breadcrumbs.
drizzle over a little more olive oil, then transfer to the oven and bake for 15 to 20 minutes, until the top is Golden Brown and crisp. Serve hot, with a green salad if you like.
If you are wishing to book please give us a call or send an email, these can be found in the contact area. We are also on facebook.
The Oven Fairy, A Lot of Muscle and a little bit of magic
Stay Safe Everyone.
Kind regards
Www.theovenfairy.co.uk