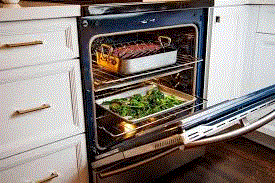 Should I have my oven cleaned?
Hi,
Hope all is well with you and your families in this difficult time, with the world slowly opening back up. We are really pleased you are getting in touch and getting your ovens cleaned. A question we often get answered:
Why is it important to clean your oven?
One of the main reasons why it is important to clean the oven regularly is that you are free of safety risks when cooking in a clean oven than in a dirty oven. A clean oven guarantees your safety. Leftover grease can ignite if it is not taken care of, causing dangerous grease fires and oven damage.
What happens if you don't clean oven?
It's all too easy to let grease and grime build up, but doing so could result in you and your family coming down with food poisoning. Not only that, having a dirty oven can even affect the taste of your food.
Do ovens need cleaning?
As a general rule of thumb, plan on cleaning your oven every three months. If you are an avid baker or cook, you may need to clean it more often.
How often should you get your oven cleaned?
A good rule of thumb is to clean out the inside at least once every 6 months, or 2-3 times a year. If you use your oven almost every day, or if your recipes require more grease, you would need to clean it more often. If you only use the oven once in a blue moon, you can get away with a good clean twice a year.
Are Dirty ovens dangerous?
A dirty oven will release bad smoke
Because this smoke more often contains harmful gases like Sulphur dioxide, nitrogen oxide and carbon monoxide. This can put you in danger. Even more, dirty ovens also emit pollutants such as carbon and methane which can is contributing to climate change.
If you are wishing to book please give us a call or send an email, these can be found in the contact area. We are also on facebook.
The Oven Fairy, A Lot of Muscle and a little bit of magic
Stay Safe Everyone.
Kind regards
Www.theovenfairy.co.uk